We would like to welcome Christina Randell to our team. Christina is a Registered Massage Therapist, and an active member of the College of Massage Therapists of New Brunswick.
She has a Bachelor's Degree from St. Thomas University with a double major in Criminology and Psychology followed by 2 years at University of New Brunswick for her Bachelor of Science in Kinesiology.
She graduated from the Atlantic College of Therapeutic Massage with additional certifications in:
Sports Therapy
PregnancyMassage/Doula Certified (Birthing Support Coach)
Infant and Adolescent Massage
Cranial Sacral Therapy
Aside from work, Christina has spent 10 + years coaching competitive swimming working with a wide range of physical abilities. She is very athletic and loves the sport of swimming and finds herself in and out of the pool and open water.
She is available for morning, early afternoon and evening appointments. Give us a call on 738-8299 to book your appointment.
From injury prevention to improved performance and mental state, massage offers a broad range of benefits. It uses a variety of techniques, including myofascial release, neuromuscular and connective tissue manipulation and is a beneficial form of treatmentfor anyone in need of soft tissue work.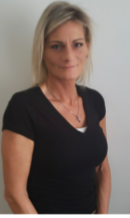 Christina Randell RMT,
Christina is a Registered Massage Therapist at the Human Performance Centre. You can contact her at 738-8299.